Hey, everyone. Remember when I said I'd be coming back, and then I remembered I'm on a super busy course and I barely had time to sleep, let alone watch anime?
Oops…
Luckily (Ha!), the world is now faced with a global pandemic, and everything in my country has been shut down. The only advantage of this, is now I have time to both write about, and watch anime again. Yay!
And what better way to start back, than with a review of possibly the most controversial anime of 2020 (Already?! Hell yeah) – Ishuzoku Reviewers, or Interspecies Reviewers.
OH, and this should go without saying…this review is Not Safe for Work.
Interspecies Reviewers (異種族レビュアーズ)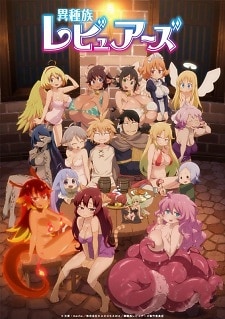 "Countless diverse races, from perky fairies to oozing slimes, inhabit the world. Naturally, such a melting pot of creatures has a broad and alluring variety of brothels. With so many options to choose from, it is hard to decide with which succu-girl to have a meaningful, interpersonal experience.
Fortunately, a tight group of brave warriors has come together to enlighten the public. These perverted adventurers take it upon themselves to assess the appeal of all types of succu-girls through hands-on research. Whether it be the scorchingly hot salamanders or the udderly hu-moo-ngous cow-girls, the Yoruno Gloss reviewers leave no species behind.
Directed by the mastermind behind Miru Tights, Ishuzoku Reviewers seeks to answer one of the most pressing questions there is: which species is the sexiest?" (From MyAnimeList).
Pressing matters INDEED. Before Interspecies Reviewers, I always thought that elf boys would be pretty cute, or maybe a demon lord. BUT OH BOY, it's not that simple, as our main trio would tell us.
I am not going to sit here and pretend that this show isn't trashy. It really is. There possibly hasn't ever been a trashier show, than one that is purely about getting your dick wet and rating girls on the basis of 'how good their tits are'. But my goodness, doesn't this show know that it's trashy, and takes it all in its stride. Sure, it definitely has moments of being a little bit crass (the roleplay episode…risky territory there), but it has just as many moments that are pure comedy. Think of it more of the American Pie of anime. You're not (well, I wasn't) watching it to get your rocks off, you watch to laugh at some poor fools desperate attempts to get laid. Yes, they do manage, but that's kind of the succubus' job.
I can't talk about the good parts of this show without mentioning the opening. My god, does that song smack.
It's like the anime version of the YMCA…except, you know. Instead of shelter, you're getting brothels. But heck, I bet these guys enjoy every second of it. If the opening doesn't give you an idea of how much fun this show is, I don't know what will.
All of the main trio are great, each of them individual, and playing into your typical ecchi tropes, as well as giving a well needed breath of fresh air. Possibly the most welcome was the inclusion of hermaphrodite angel, Crimvael, who delivered an almost very innocent outlook on the show. Of course, there's only so much innocence you can have in a show almost exclusively centred on brothels, but Crim definitely tries. He's not without his vices, but acts almost as a middle man between the smooth talking Stunk, and the ever crude and filter-less Zel.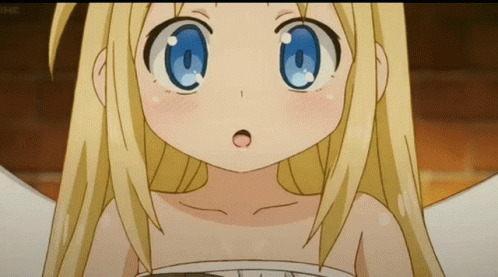 As I previously mentioned, whilst the show is crude, it isn't without heart. Honestly, the main take away I got from the show is that everybody is capable of being attractive and beautiful, and that everyone has great things about them. It might be unconventional, but at the end of the day…the Interspecies Reviewers (or at least one of them) will probably love you. And if you are watching for the ecchi…oh boy. You are in for a treat. You have every kind of girl you could ever think of, from a salamander, to a girl made out of slime, to a hyena girl with a giant penis. Yep. Truly everything.
If you're a fan of raunchy comedy, and you're prepared to have headphones on, and screen brightness turned down at the ready, then this show is for you. All together now – スケベが大好き! (Translate at your own risk).
My rating – An unironic 9/10, this is the best ecchi you'll see, and the closest you'll get to the dreaded H word.
What did you think of Ishuzoku Reviewers, if you dared to watch it. Did it convert you to watch more ecchi? Or are you now completely turned off the genre? What shows did you watch in Winter 2020?
Let me know down in the comments!
Until next time!